by Jennie Jiang | April 28, 2020
At 9:15 am on a bright Friday morning, Denise Reidy-Puckett and Crispin Ilombe Wilondja are loading over a hundred bags of food into the Global Village Project bus with help from volunteers. By this time of day in pre-pandemic life, Crispin would usually have already finished driving his bus route to take students to school, but this time he and Denise aren't going to Clarkston to pick students up – they're going to drop food and supplies off.
Since Global Village Project transitioned to remote learning on March 17th, holistic support for students has transformed into a more dynamic, expansive, and responsive initiative than ever before. GVP has always been committed to supporting our refugee students beyond the academic, from our focus on social and emotional learning to the importance of the arts in our curriculum. Similarly, we have long incorporated practices that address needs specific to our student body, such as hiring interpreters for parent-teacher conferences and providing transportation to and from conferences. 
But holistic support during a pandemic has taken things to a new level, to say the least. The crisis has challenged the GVP team to ask ourselves again and again, "What do our students and families need right now? What does holistic support look like during this time?" The GVP team has had to be perceptive and responsive to additional challenges to students' education and wellbeing during the crisis: Do the students need Bluetooth keyboards to be able to learn remotely? Done. Does a family lack an internet connection at home? We'll get a Wifi card for them. Are students' families at risk of experiencing food security? We'll work with our partners to deliver food to their homes. School Support Specialist Crispin Ilombe Wilondja, as well as School Counselor Katelynn Villari and volunteer Basmat Ahmed, have all been working together to call every GVP family each week to check in about their critical needs. In spite of the many disruptions caused by the crisis, the strength of our community has not faltered during this time, only deepened.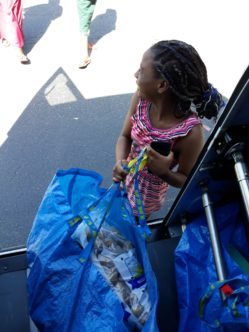 For weeks after GVP transitioned to remote learning, Crispin and GVP Operations Manager Denise made weekly rounds through Clarkston to deliver food and supplies to students and their families. Some Fridays they came bearing new remote learning tech, other weeks they brought hand sanitizer donated by Little Otter Skincare. Sometimes they brought homework packets prepared by GVP teachers. Always, they had food: hundreds of bags of food provided by the Atlanta Food Bank, GVP itself, and Snack in a Backpack, a food assistance program for food-insecure students and a long-time GVP partner. From shelf-stable bags of rice to fresh, snackable oranges, all 31 GVP families received food assistance to help ease their burden during the crisis. To complete the deliveries, Crispin and Denise donned masks and stayed in the front of the bus, while GVP students picked up pre-packaged bags from the bus's back door more than six feet away. 
These are certainly strange times. Yet, for all the ways in which COVID-19 has called upon GVP to navigate unprecedented territory, the process of figuring out the way forward has been simplified by relying on the same commitment that has always guided us: that of educational equity for the refugee students at our school.  "The DNA of GVP," says Crispin, "is diversity, equity, and inclusion." GVP's story has always been that of a small but mighty team of people dedicated to removing barriers to refugee girls' access to education. Today, we are still doing what we have always done best: innovating, caring for our GVP family, and serving as a vital link between the community we serve and much-needed access to resources and information. Whether it's removing a technological barrier or ensuring our students have enough food to eat, everything we do aims to recognize and address gaps in support so that refugee girls have full, unfettered access to the education they deserve.
While the GVP team remains unwavering in our commitment to students and families, the manifestation of our commitment continues to adapt to the ever-evolving circumstances of this pandemic. The weeks during which Crispin and Denise made their weekly Friday rounds provided crucial coverage while organizations specializing in addressing food insecurity planned and coordinated their COVID-19 services. At this time, GVP is transitioning from providing direct food assistance to connecting students and families with other organizations better equipped to manage long-term support in this area. As such, Crispin and Denise completed their last Friday run on April 17th. Now students and families are picking up food provided by local food pantries, Atlanta Food Bank, and DeKalb County Schools, available at public schools throughout the Clarkston area.
Even so, GVP's role as an access point and supportive presence for our students and families continues. The Family Support Team remains in touch with every GVP family each week, and our holistic support model allows us to quickly connect our families to whatever type of assistance is needed, from employment help to healthcare resources. Whether we can directly help or we can connect them to someone else who can, it is our commitment to ensure that no GVP family feels like they are navigating this crisis alone.
Because they aren't. They have a whole 'global village' standing alongside them, and we are all in this together.
To give to Global Village Project's COVID-19 Crisis Appeal, visit bit.ly/gvpcovidappeal.