As newcomers, English language learners, and students of color, refugees face complex barriers to their education. In the name of educational equity, GVP is committed to removing the barriers to refugee girls' learning so that they have the opportunity to pursue their dreams. The impact we make speaks for itself through our alumnae's bright futures. Each one of these young scholars' and leaders' stories serves as a powerful reminder that an investment in refugee girls' education pays a lifetime's worth of dividends.
With your support, we can help them succeed.

There are many ways for you to donate to our innovative program.
Global Village Project is a 501(c)(3) nonprofit organization.
As Global Village Project's major giving circle, Cornerstone Society is made up of individuals who elect to serve as an invaluable, sustaining resource for the school. Cornerstone Members pledge a minimum of $5,000 per year for a three-year commitment that provides foundation of support critical to GVP's ongoing programs. This three-year pledge parallels a student's time at GVP, supporting the education that sets her up for success in high school and beyond.
Cornerstone Members are some of the most dedicated leaders of our community, donating not only their finances but often their time and energy as well. We are deeply honored by their investment in GVP's vision of ensuring that all refugee girls have access to the education necessary to pursue their dreams.
If you would like more information about joining Cornerstone Society, please contact our Director of Development, Erin Alred, at [email protected].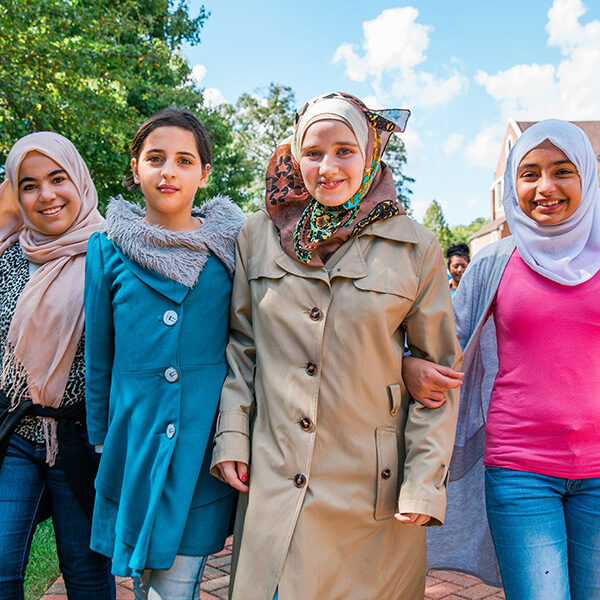 Amazon Smile is a simple and hassle-free way to support GVP every time you shop, at no extra cost to you. Just go to smile.amazon.com, select Global Village Project as your charity of choice, and start shopping! Kroger and Publix offer similar programs that you can link to your discount cards.
As a general policy, Global Village Project does not accept gifts in kind. We build the needs of our school into our budget and encourage donors to make cash gifts that give us the flexibility to meet our needs as they arise.
Alternatively, GVP maintains an Amazon wishlist. It includes our known needs and allows donors to ship items directly to us. The Amazon wish list is the best way to make an in-kind donation. Donors are also encouraged to select Global Village Project as their designated charity on AmazonSmile.com; in this way, GVP receives a portion of all purchases made on your account.
GVP does not accept unsolicited donations of clothes, food, or household items. Members of our community who would like to make gifts in kind in support to the Afghan Refugee Crisis are welcome to donate items to the Welcome Co-Op according to guidelines.