by Jennie Jiang | February 20, 2020
UPDATE: Due to the COVID-19 crisis, we have made the difficult but necessary decision to not hold Tribute to Education this spring. For more information, please visit our Tribute Cancellation FAQs. 
On Sunday, April 19th, Global Village Project's annual gala Tribute to Education will be held at The Temple in midtown Atlanta. Now in its eighth year, Tribute to Education is an event as entertaining as it is impactful: it's a chance to not only provide vital support to GVP, but also enjoy a lively, fun-filled evening with dinner and cocktails, a live auction and paddle raise, a performance by the GVP chorus, and more!
We are honored to announce that our keynote speaker this year is Nasteho Ibrahim, GVP alumna and recently selected recipient of the prestigious Posse Scholarship. Nasteho graduated from Global Village Project in May 2016. Now a senior in high school, she was selected as a Posse Scholar this past December and will attend George Washington University with a full tuition scholarship in the fall. The Posse Foundation is committed to supporting a diverse cohort of leaders for tomorrow and selects Scholars like Nasteho based on their extraordinary leadership potential.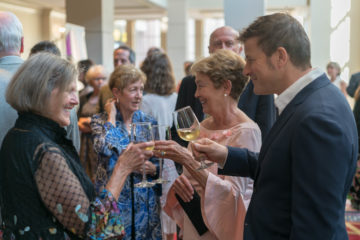 At Tribute to Education, Nasteho will share her experiences as a refugee student living in Atlanta as well as her hopes for a better world. Her keynote promises to be the highlight of an evening that also has so much more in store: live music by GVP students, speciality cocktails, a catered dinner, and the opportunity to bid on an exciting array of prizes – auction items in past years have included private French cooking classes and dinner parties featuring different cuisines. We are excited to announce that dinner will be catered this year by Zest Atlanta, a new partner to Global Village Project!
Last year, through the generosity of our global village family, we raised $240,000 at Tribute to Education to support the educational journeys of the remarkable young women at GVP. We hope you will join us at Tribute to Education 2020 for this incredible event and the opportunity to contribute to the work and impact of Global Village Project. It's an evening you won't want to miss!
To purchase tickets for Tribute to Education, visit bit.ly/GVPTribute2020.