by Jennie Jiang | February 24, 2020
On January 25th, Global Village Project piloted our first-ever "Family Saturday" to bring together members of the community served by GVP. The event took place at Clarkston Library and was open to all student and alumnae families, as well as mentees, mentors, and volunteers.
The development of a caring and close-knit community has always been a hugely important part of GVP's success as a school. While the refugee young women in our student body come from 15 different countries and collectively speak 16 different languages, our students and staff work hard to build a community that bridges difference and welcomes everyone. GVP has long had the goal of extending this community-building to the families of our current and former students, most of whom live in Clarkston.
GVP's "Family Saturdays" program is an answer to this call. The first of what will be a monthly recurring event, our Family Saturday on January 25th drew a lot of excitement as students and families gathered and saw so many new faces. The event brought together a total of over 30 people. In addition to current students, alumnae, parents, and siblings, members of GVP staff, volunteers, a GVP Board member, and even a school founder also joined for the afternoon. As Head of School Dr. Amy Pelissero commented, "I don't think we could have asked for a more beautifully representational group gathered together for this first event. We had stakeholders from every single GVP group represented there."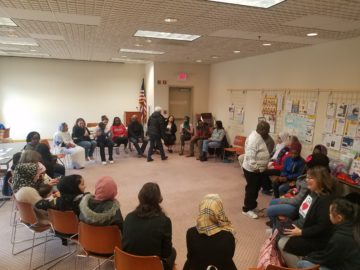 The afternoon featured casual conversation, a raffle drawing for GVP gear, and most importantly, a community circle in which everyone shared hopes and goals for the Family Saturday program. When asked what they hoped to learn from and teach other, many people voiced the desire to learn how to cook each others' cuisines, speak each others' native languages, and gather to read and tell stories, among other things. These are all exciting possibilities to consider as we continue to develop Family Saturdays and explore the structure and processes needed to make these activities possible.
Overall, our hope is that the Family Saturdays program will create the space needed to strengthen relationships in the refugee community built with and through GVP. We hope that the same culture of love and welcoming that develops each year between our students can also be fostered among this community of families and friends, and judging from the individuals who voiced that they were "happy to be here today" or "happy to make a new friend today", our Family Saturdays are off to a great start.