by Jennie Jiang | July 20, 2021
As we look back on this past year, we are reflecting on the role that Global Village Project has played and must continue to play in advancing educational equity. The COVID-19 pandemic has pushed our educational system to the limit, revealing deep cracks and outcome disparities that prevent every student from having an equal opportunity for success. As a school that serves refugee girls who have recently arrived in the U.S. – a population that faces multiple forms of marginalization – GVP recognized that the pandemic would pose a particularly difficult challenge to our students, and we took it as an opportunity to reaffirm our commitment to equity and inclusion.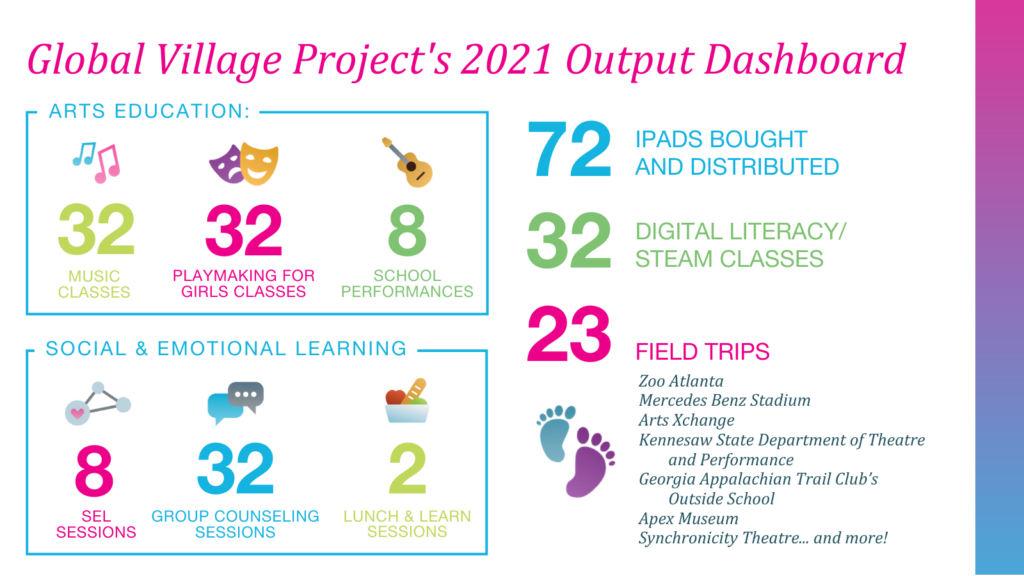 The numbers from our 2021 output dashboard make it clear: 2021 was a year focused on access and support. As refugees, students who have experienced trauma and interrupted schooling, English language learners, students of color, and predominantly low-income, first-generation students, GVP's students were navigating extraordinary barriers to their education during the pandemic. GVP's emphasis on Social and Emotional Learning this past year aimed to alleviate some of the isolation and uncertainty students were experiencing during the pandemic, as well as the challenges they faced in adjusting to a new country and school environment. From an equity standpoint, a focus on Social and Emotional Learning is also key for making classrooms more welcoming to students who have experienced trauma, because it recognizes the impact that trauma and emotional difficulties have on learning and wellbeing.
The wraparound services GVP provided in this past year also critically contributed to students' access and support. In a year of remote learning, without on-site school lunches and technology, GVP stepped in to fill a gap by delivering food and all the technology needed for online learning to students and their families. Moreover, our weekly digital literacy and STEAM (Science, Technology, Engineering, Arts, and Math) classes helped expose our students to fields in which women, especially women of color, continue to be underrepresented. GVP's arts curriculum also offered ample opportunity for personal and creative expression in a difficult and unprecedented year.
All in all, GVP's response in this past year was intentionally designed to center students and families who are otherwise marginalized in traditional educational spaces. By addressing structural barriers, we aimed to meet students where they are and create the conditions for them to succeed. Pandemic or not, we know this to be the true work of educational equity: to remove what stands in the way, and amplify and nurture the excellence that already lives within our students.