by Bonnie O'Neill | April 28, 2022
This January, I approached GVP STEAM Coordinator Danielle Ereddia about Global Village Project (GVP) girls participating in the Global Art Project for Peace exchange. Global Village Project is a nonprofit school for refugee girls, located in Decatur, Georgia. This year GVP is home to 32 girls from 14 different countries and speaking 17 languages. Students' home countries include but are not limited to Afghanistan, Rwanda, Tanzania, Iran, Malaysia, Burma and Eritrea. I thought, Who better to promote peace than refugee girls, many of whom have known war firsthand?

GVP staff were quick to jump on board. The arts play a major role in the GVP curriculum, a key tool in overcoming language barriers and cultural challenges. To introduce the project, we brought in my friend Charmaine Minniefield, acclaimed artist and social activist, who lives and works in both Atlanta and Gambia. "The girls were completely captivated with Charmaine and so thrilled to meet her," said Danielle. "And they couldn't wait to get started."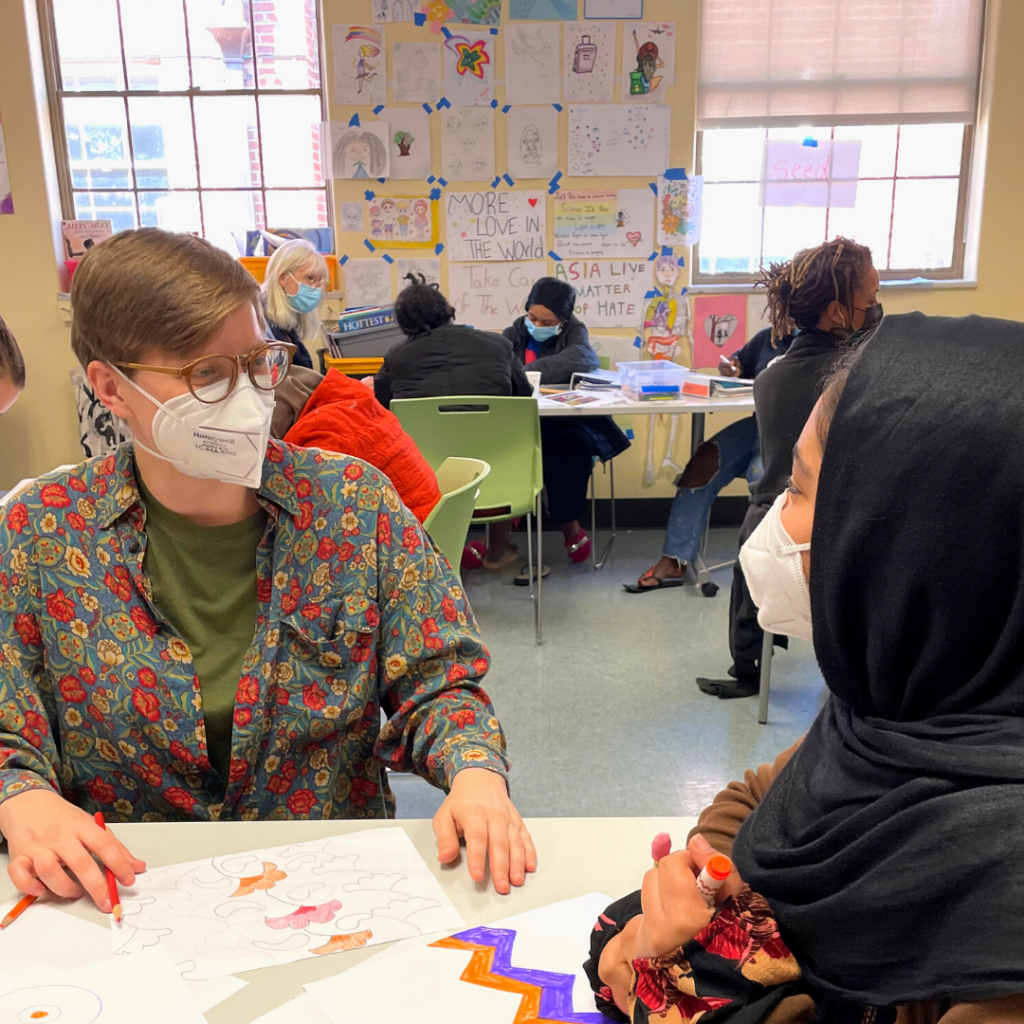 The Global Art Project for Peace was born almost 30 years ago by my friend Katherine Josten, a prominent Tuscon artist and world-class connector. She set out to connect the whole wide world of peace-seeking art lovers. Through this project, millions of artistic creations, visions of a peaceful harmonious planet, have been happily exchanged. Paintings on canvas and paper mache, sculptures, videos, poems and songs — often passing each other across the skies during the last week of April, inspiring the creators and the recipients as only art can. Professional artists, Sunday dabblers, nurses, doctors, teachers and students — the proverbial butcher, baker and candlestick maker — anyone can share his or her love of art and hope for peace with folks they've never met, but with whom they have much in common.

Katherine describes her organization, nominated for a UNESCO Prize, like this: "We aim to joyously create a culture of peace through art and celebrate diversity and multiculturalism while expressing the idea that 'We are all one.'" To date, the international art exchange has involved over 160,000 participants in 95 countries on seven continents. Every other year, more than 200 volunteer coordinators help to organize and spread the word in their part of the world.

This March, using acrylic paint, GVP students produced a 3 x 5 ft size canvas, a highly colorful painted quilt of 25 seamlessly connected individual art pieces. The young artists called their creation, Freedom Quilt. It's currently displayed in the school's hallway and delightfully captures the exuberance and happy energy of GVP. You cannot look at it without feeling uplifted. Each piece is unique, but together, they beautifully weave a whimsical and wonderful quilt of joy.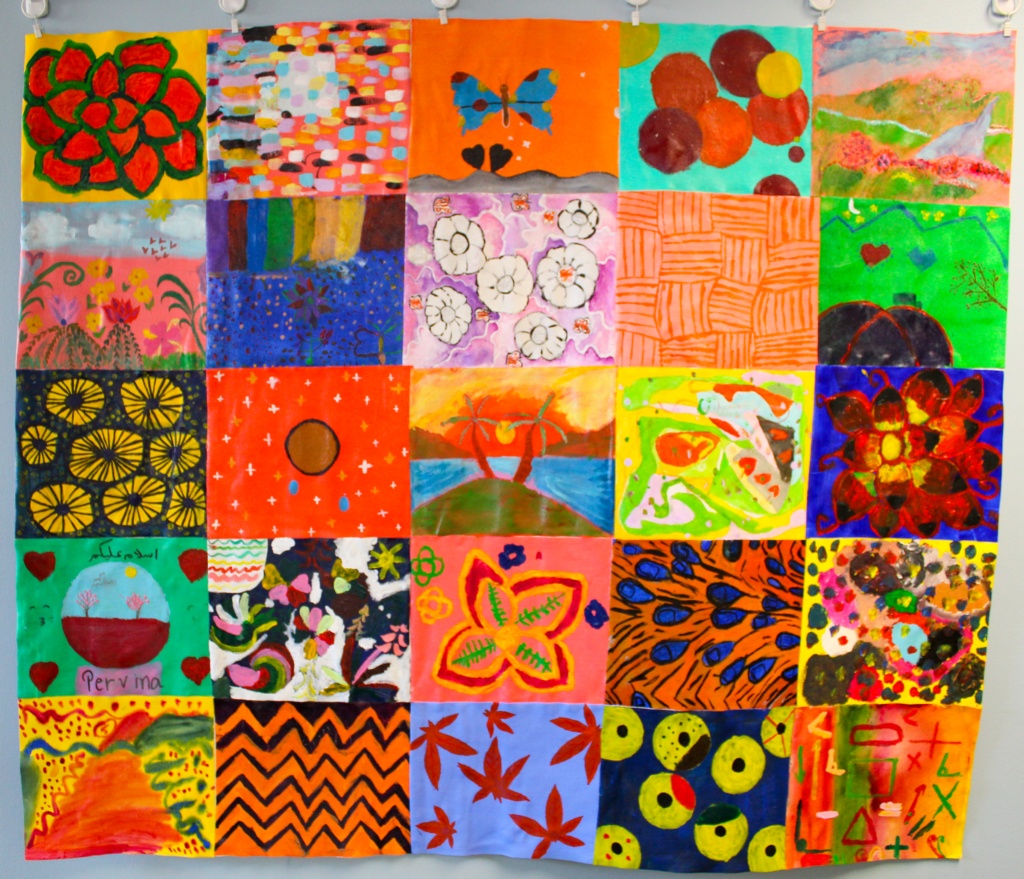 Recently, the girls learned the identity of their exchange partner. It's a 9th grade class of students at The British School in New Delhi, India. The painting will soon be shipped off along with handwritten notes, photos, and a selection of music from the GVP girls who created it. Then, they'll await the art piece the Indian students have created for them.

Who knows where this connection will lead. Perhaps pen pals and new friendships will emerge. At the very least, every GVP artist will have played a part in heart-filled visions of harmony and peace. And that's a connection worth celebrating.
---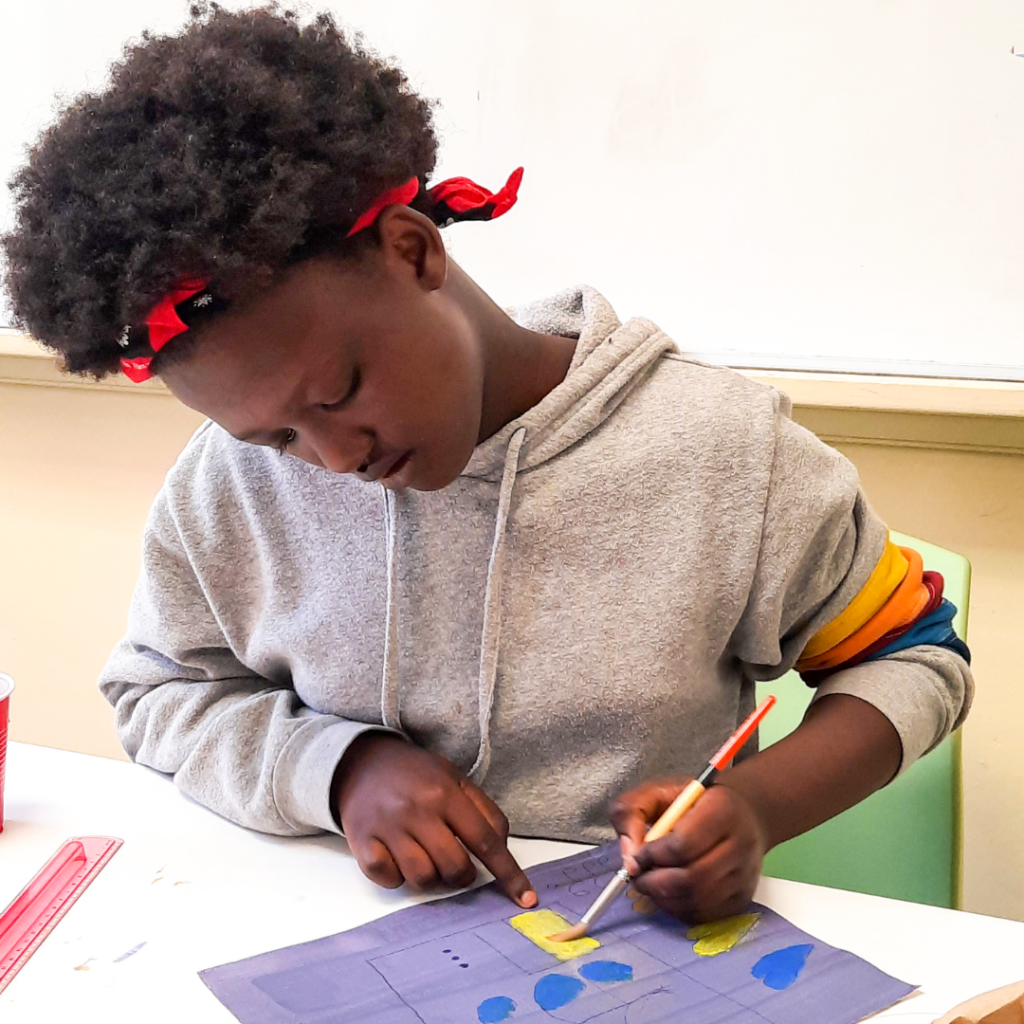 Bonnie O'Neill is a member of the Board of Directors at Global Village Project and an art lover and peace-seeker.