by Jennie Jiang | December 21, 2020
"One child, one teacher, one book, one pen can change the world." For years, this quote by Malala Yousafzai has adorned the chalkboard in Dr. Amy Pelissero's office at Global Village Project. Now, as Dr. Amy departs from GVP this month after more than seven years of serving as Head of School, GVP staff and board of directors are honoring her with a surprise that gets to the heart of her enduring love, commitment, and passion for reading and education: Dr. Amy's Bookshelf, a tribute collection of some of her favorite books, will become a permanent new fixture in GVP's library.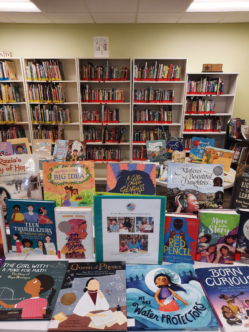 This tribute collection will feature books of every reading level so that GVP students for years to come can enjoy them as they learn and grow. Most of the books feature diverse characters and are written by authors of color, from Just Ask!: Be Different, Be Brave, Be You by Sonia Sotomayor and illustrated by Rafael López, to Janay Brown-Wood's Imani's Moon, illustrated by Hazel Mitchel. Each book was donated by a GVP staff, board member, or friend, past or present, and comes with a dedication insert that recognizes Dr. Amy. While she will be dearly missed after her departure, there is perhaps no better way to honor Dr. Amy's legacy than by continuing to inspire a love for reading in young women, as she herself has done for so many GVP students.
This bookshelf joins the other celebrations of Dr. Amy to which GVP staff, volunteers, mentors, partners, and friends from the far-reaching GVP community have contributed. While Dr. Amy herself humbly asked for no loud fanfare to mark her departure, the GVP community still found ways to thank her by creating quiet fanfare, in a way that is perfect for all those who know and love Dr. Amy. For weeks leading up to her last few days at GVP, all those who have been touched by Dr. Amy's heart and generosity over the years sent in email messages, handwritten letters, cards, and photos to be compiled into a scrapbook. As we have all been the beneficiaries of the lovely messages, insights, essays, and notes that Dr. Amy has written over the years, this time it was our turn.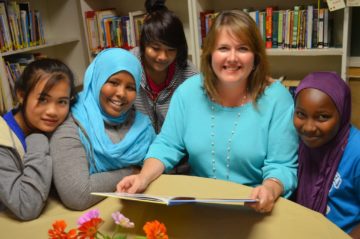 Of course, these tributes to Dr. Amy will only partially capture the depth of our gratitude to her for her years of service and leadership. Dr. Amy first joined GVP as a teacher in 2010 and became Head of School in 2013. Under her leadership, GVP transformed from a tiny nonprofit with a shoestring budget to a robust organization whose holistic, innovative educational model serves as a leading example in the field of refugee education. Dr. Amy led GVP through its expansions in budget, capacity, staff, size, and reputation, as well as ongoing refinement of its mission, vision, and strategic plan, while remaining absolutely steadfast in her commitment to GVP's students and families. An educator to her core, Dr. Amy has played a key role in ensuring that GVP has never wavered in its vision to give every refugee girl access to the education necessary to pursue her dreams.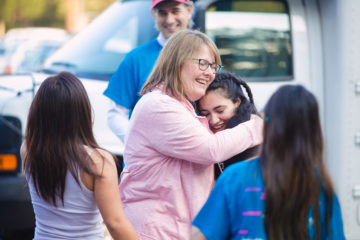 This passion for people and education is perhaps Dr. Amy's true legacy. Anyone who has been the recipient of one of her notoriously amazing hugs or felt the warmth of her presence in every interaction knows that Dr. Amy lives and breathes the philosophy of putting people and relationships first. She is universally beloved by students and their families, who will also be sad to see her go. However, we know that even while Dr. Amy's formal role with GVP is ending, she will remain a member of the GVP family for the long run.
Dr. Amy herself is most looking forward to the chance to rest, rejuvenate, and spend more time with her daughters before she gets ready to embark on the next phase of her life journey. On behalf of the GVP community, we wish her the best for her well-deserved rest and in all her future endeavors. Thank you, Dr. Amy, for all the heart, passion, and hard work you have put into GVP over the years, which have transformed the lives of so many GVP students and this community for the better.