by Jennie Jiang | August 28, 2020
On Monday, August 17th, Global Village Project began its twelfth school year, transformed by the ongoing COVID-19 pandemic.
Like many schools across the country, Global Village Project decided to continue with a remote learning model this fall to ensure the safety and wellbeing of students, families, and staff. GVP's staff has been working diligently all summer to continuously improve upon the robust remote learning model we first unrolled last March. This fall, all classes, from science to theatre, will continue to be held via Zoom.
There was one on-site activity planned for this semester: a two-week bridge orientation created specifically for families new to GVP. For the 19 students enrolling in GVP for the first time, we knew it would be necessary to bring students and families onsite to complete registration, intake assessments, and orientation. As we have always done for Enrollment Day, we provided transportation via the GVP bus (this year, while socially distancing), hired translators, and this year, also handed out masks for all families to make the school as accessible, safe, and welcoming as possible. Of course, enrollment activities looked very different this year – wholly reorganized to adhere to safety protocols for reducing the risk of COVID transmission.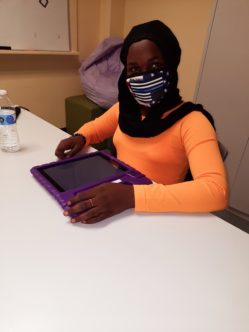 "It was quite the production," says Program & Impact Manager Dr. Cassie Leymarie. "We had to make sure everyone was socially distanced, so we did it over four days, spread across the entire school, with one facilitator per classroom per family – but it was very well worth it." These two weeks have allowed teachers to personally orient every student and family to GVP and the tools they will need for remote learning – hopefully setting them up for success for their first year.
Similarly, GVP staff undertook a monumental effort to touch base with each of our 27 returning students and their families before our first week back at remote learning. After "hundreds of calls and chats and at least five home visits," Head of School Dr. Amy Pelissero is calling GVP's welcoming week of remote learning a "huge success," with 80% average attendance across all classes and 100% successful contact with every student and family. Moreover, for those who missed class, Dr. Amy notes that it was mostly due to internet connectivity and technology issues.
Each of the many steps taken to prepare for these two weeks of reopening has been designed with the needs of our students and families top of mind. We have asked ourselves again and again, "How are we ensuring all students have access to the tools they need to fully participate in remote learning? How are we supporting parents in their commitment to their daughters' education?" Knowing full well that it is students like ours – refugees who are also English language learners, students of color, and students from low-income backgrounds – who are most at risk of falling behind during COVID, we have redoubled our efforts to make school fully accessible and engaging. We have distributed iPads to every family, supplied internet hotspot cards where needed, provided backpacks full of school supplies, actively engaged parents, and delivered food on a regular basis – all as part of our commitment to removing the barriers that make traditional educational systems inequitable for marginalized students.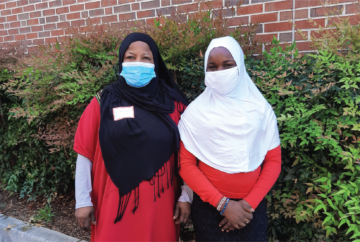 Of course, our educational model is also continuing with the people-first approach that has always defined GVP. We put relationships at the core, and this manifests itself in everything we do, from our wholehearted, music-filled welcome to new families, to the care and love imbued in every teacher-student interaction. We know that the positive relationships are what really keep students coming back, and especially during this time, putting relationships first has never been more important.
This is the approach that will carry us to the other side, and it has already gotten GVP off to a strong start in this unusual year. As Dr. Amy says, "If we expect our students to come and learn how to use a stylus, Google Classroom, and Zoom raise-hand features, and if we want them to sing, move, learn and share while at home on computers, then we must be willing to put our relationships and connections first. And to put in the extra time and intentionality required to build and strengthen those. I know that this is why our students were in school this week."