by Elizabeth Elango | September 26, 2022
On the far side of the GVP parking lot, right next to the Decatur Library, a group of Form One girls are talking excitedly, each one trying to drown out the other's voice as they follow their STEAM teacher, Ms. Danielle. The students gather near the wall that separates both buildings, and Ms. Danielle climbs the stairs into the Library parking lot, overlooking her students, who are getting more excited by the minute, unencumbered by the bright sunlight that is shining down on them on this fall day. There is a small breeze in the air. A few of them wrap themselves more tightly in their clothes. Others cling to their friends. All of them have their eyes turned towards Ms. Danielle who calls for their attention from high behind the wall.
The students have been working in teams to build parachutes that they've designed to protect eggs from breaking by the impact of a fall. The egg drop is an engineering project and challenge which incorporates elements of physics and of creativity. It also enables the students to grow their teamwork skills. By coming up with creative design ideas, they can prevent the eggs from breaking at high speeds and height.
The students used plastic cups, cotton balls, straws and sheets of plastic to make their designs. They seemed equally anxious that their eggs would break and excited about the mess a broken egg would create.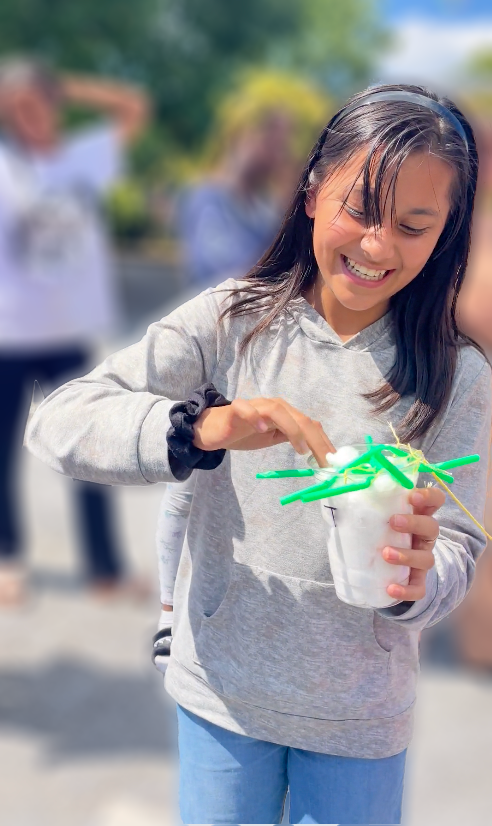 Their voices danced across the parking lot as Ms. Danielle dropped each team's project, some falling to the ground with great thuds and others floating ever so slightly in their makeshift parachutes before making a more delicate landing.
When all of the team's projects had been tested, the girls high-fived each other and returned to their exciting conversations, some teams already discussing the adaptations and adjustments they would make to improve their designs next time.
---
Watch a video of students' egg drop project on Instagram!