by Kate Hibbert | January 28, 2022
"We see it daily in the growth of our students: the timid girls who started school in August with limited vocabularies have butterflied into empowered, expressive students with lots of confidence in their knowledge and opinions." – Where We Belong, 2021 Year-End Update
Since its founding in 2009, Global Village Project (GVP) has designed a holistic, innovative model to remove the educational barriers that our students face and create conditions for them to succeed. GVP's approach not only recognizes the structural barriers many students face which hinder their ability to access their education, but also those barriers to full participation. This is where belonging enters the picture.
The term belonging assumes a significant role in the context of modern Diversity, Equity, and Inclusion (DEI) initiatives, especially for schools. Belonging means that students perceive themselves as included, supported, empowered, and respected in their classrooms. It is key to educational equity because when students experience safety, understanding, and inclusion, they fully embrace the opportunities presented to them.
Many efforts to forward equity focus on access to opportunities, but the ability and motivation to succeed within those opportunities is greatly influenced by an individual's experience of belonging. The Action for Equity model from Equal Opportunity Schools (EOS) provides a simple equation for understanding this dynamic: Access + belonging = equity in education.
Dr. Amy Pelissero, former Head of School at GVP stated in Teaching during COVID-19, "Our goal and our success will be found in our connections, our relationships, and our strong learning community. If we have students who want to be in classes (as they do now) and who show up for school (as they have been with 90% average attendance), then we are successful. If we have students and families who trust us, reach out to us when they need support, and want to share the school with others, then we have achieved our goal."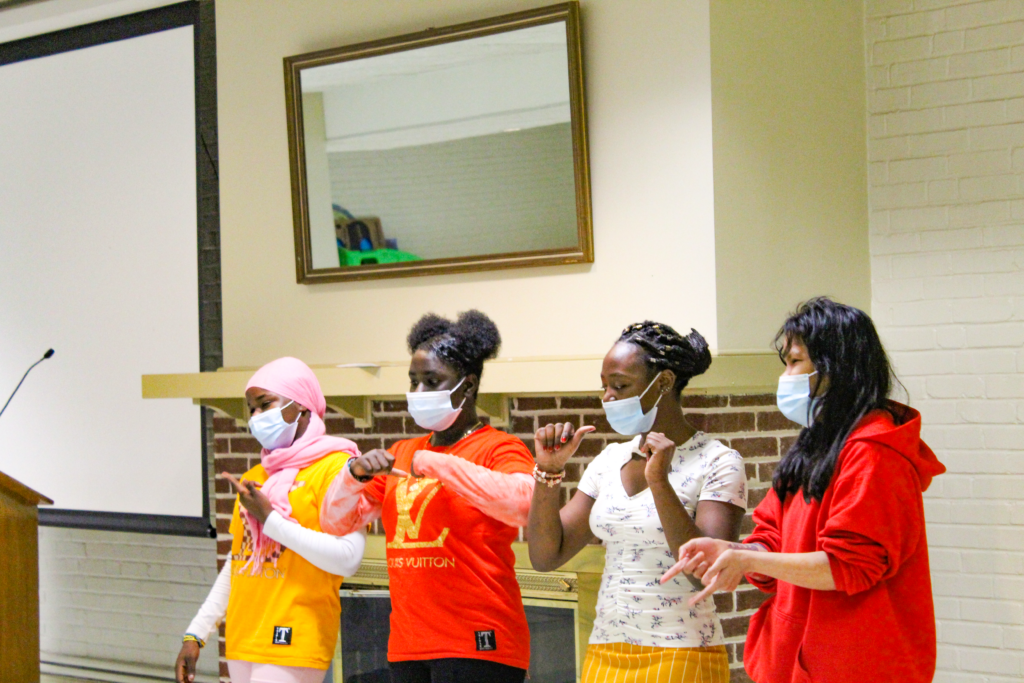 So, how do we create school conditions that foster belonging? Through their most recent research, EOS supplies a framework for measuring five key factors influencing student belonging: curriculum, teaching, conversations, community, and expectations.
GVP's model and practices are robust and innovative within each of these areas. Noting that EOS researches outcomes for students of color in the United States, the GVP approach and model recognize the intersectionality of experience for students of color who are also young women and refugees. While traditional educational models tend to rely on white-centric, teacher-centered, and standards-based pedagogy, every aspect of GVP's unique educational model is designed to place the needs and strengths of our students and families at the core. In particular, this includes a commitment to culturally-responsive teaching, curriculum, and conversations that are interwoven in our classrooms and community. In general, this means including and centering students' experiences, backgrounds, knowledge, and cultures in all aspects of learning. The list of examples below is not exhaustive, but illustrates GVP teachers' ingenuity and commitment to culturally-responsive education.
The Welcome Unit, completed at the start of every year, focuses on students' countries of origin, their skills in multiple languages, and their shared lived experience transitioning to a new community. Our music classes and Songwriters' Club give students agency to write and perform songs based on their own experiences and their desires for their school community. Guest speakers like Evelyne Ombeni share professional achievements which represent possibilities for our students' futures. Our teaching staff is prepared to pivot when our students witness current events that demand open dialogue about race, like they did following the death of George Floyd in 2020. Our library's culturally diverse texts reflect our students' communities and stories. With reinforcement from teachers and school staff, these personal connections between curricula and students' cultures and life experiences provide a strong foundation for fostering belonging.
There are several examples of GVP's approach to fostering belonging through community and expectations, many incorporating a strengths-based approach. GVP students are encouraged to ask for and offer help to their "school sisters" (the GVP-preferred term for classmates), especially with those who share their first language. Staff and volunteers are trained in strengths-based methods to ensure that students receive consistent verbal and nonverbal messaging from all adults in the classroom. Guided math and guided reading classes employ individualized goals and a growth mindset, in contrast to standardized assignments that cause students with extra barriers to become discouraged and fall even further behind. Respect and Appreciation are two of our five Core Values, highlighted through the Core Value of the Month and awards to individual students each semester. Recently, GVP held a school-wide Community Day to center our GVP core values and our commitment to working together in harmony. This day provided an opportunity for students to play games and complete team-building activities with peers and teachers with whom they normally wouldn't interact. As one of four program pillars, Social and Emotional Learning is emphasized in morning meetings, restorative practices, counseling classes, and wraparound services that support student needs.
In the end, we can create the conditions to foster belonging, but the real work is done by students as they engage in their learning. GVP students' confidence, agency, and self-expression demonstrates their hard-won progress, even in the most lighthearted instances. GVP Head of School and CEO, Elizabeth Elango, shares, "Our students are becoming more fluent and comfortable expressing themselves in English. They are not shy about telling us their likes and dislikes. If they did not like lunch on a given day, we will hear about it!"
For further reading: