by Hannah Edber | March 29, 2023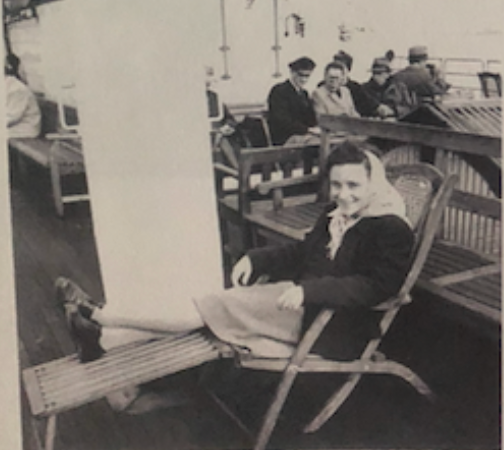 As we close out Women's History Month, I am pleased for the opportunity to share a little of my own family history and the women who shaped me. This first picture is of my paternal grandmother, Rose Edber, and was taken in 1947 as she and my grandfather sailed across the Atlantic Ocean from Europe to the United States. My grandparents had met in a Displaced Persons camp after surviving Nazi concentration camps. They were granted refugee status and settled near Pittsburgh, Pennsylvania, where they started a family after losing almost everyone they had known back home. When they learned they were expecting their first grandchild (me), they moved immediately to California to help raise me and my siblings. Rose (or Reisl, her name in Yiddish), was an incredible seamstress who made clothes for a living–and later, created a luxurious wardrobe for my stuffed animals and dolls. She loved music, took classes at Sacramento State University in a variety of subjects, taught me Yiddish and Jewish tradition, and doted on her family. She died in 2018.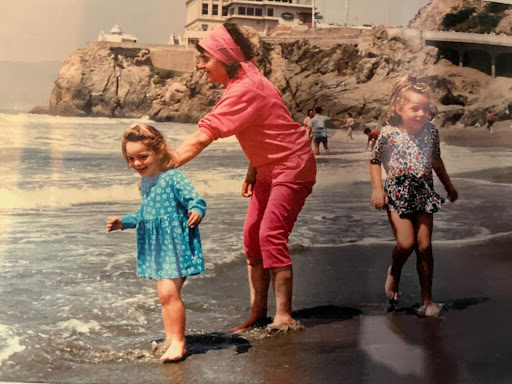 The second picture is of my maternal grandmother, Eliese LaRue. Here she is at the edge of the Pacific Ocean, just a few minutes from her home in San Francisco where she lived almost all her life. Eliese had been a professional dancer in her youth, but when I knew her she was most passionate about "broiling" coffee, dark chocolate, giving her opinions, and her family. Here she is trying to stop my younger sister, Abby, from tilting into the ocean while I make my escape behind her. She died in 2018.
The gifts I received from both Reisl and Eliese–to see and love the world's complicated beauty–have fortified me and my commitment to recognizing our students' full humanity. I am lucky to have been Reisl and Eliese's granddaughter, and I am lucky to live their legacy as a part of GVP's mission.