by Jennie Jiang | June 28, 2020
This month marked a major milestone for a group of remarkable young leaders at Global Village Project (GVP): the one-year anniversary of the founding of the Alumnae Advisory Council (AAC), GVP's first alumnae leadership organization.
Over the course of the past year, the inaugural cohort of the AAC has worked hard hard to collectively build a vision, structure, and strategy for the organization in partnership with Social and Emotional Learning Coordinator Katelynn Villari. The AAC, an extension of GVP leadership, is a channel through which alumnae contribute their expertise and experiences to help shape the future of GVP. Its current members include students across a range of graduating classes at GVP – those now enrolled in high school and college, college-bound high school graduates, and recent college graduates – together, a team of 16 powerful young women.
While GVP has engaged alumnae through our Mentor Program for the past several years, the AAC represents an intentional new effort to partner with our alumnae and is critical to GVP's long-standing commitment to amplifying the voices and leadership of young women of color. We have long dreamed at GVP of starting a leadership program for alumnae, in part because of our commitment to equip students to change a world in dire need of more women of color in leadership. Despite the skills, leadership, and experience women of color bring to the table, they are still drastically underrepresented in positions of power from government to higher education to corporate leadership. Discriminatory practices and harmful stereotypes strongly contribute to these barriers.

Yet their leadership is precisely what is needed to break this cycle; as our Head of School Dr. Amy Pelissero writes, "Having women of color in powerful leadership positions will lead to more empowered women of color and empowered communities of color. These women and the structures to support their leadership are needed now more than ever to bring transformation to our nation, our political and social systems, and our communities." GVP hopes to be at the forefront of empowering young students of color through specific initiatives designed to help them develop, practice, and hone their leadership skills. Our new Rising Scholars Society for our Form 3 students is one example of such a program that we launched this year, and the AAC is another key opportunity we're continuing to develop.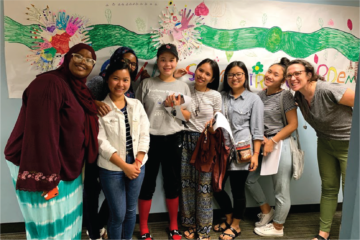 In their first year of service, the AAC has laid a strong foundation for the future. They began their journey with a retreat last summer facilitated by consultants Jai Simpson-Joseph and Sumaya Karimi, during which they self-determined their structures, purposes, and goals for the organization. Since then, they have continued to meet regularly and give back to the GVP community in various ways – you may, for example, have caught AAC Communications Specialist Nasteho Ibrahim as our keynote speaker at the 2019 Welcome Walk. 
In addition, the AAC has played a pivotal role as peer mentors to current GVP students. As the 2019-20 school year drew to a close, AAC members joined current GVP students at some of their remote classes to share about their experiences in high school. In response to students' questions, graduates gave thoughtful advice about studying, accessing resources, joining new clubs, and opening up to others to make friends. The AAC were also planning to host a graduation party at the Clarkston Community Center for GVP graduates this year, but that has been postponed until the end of the summer, or whenever it is once again safe to do so.
The young refugee leaders who serve on the AAC have already shown remarkable promise, vision, thoughtfulness, and generosity. collective. Their mission and our collective hope is that their influence will not only extend forward as they gain the skills and experience necessary to continue leading in the future, but also backward as they provide guidance to younger students at GVP. Most importantly, we hope they continue to imagine, influence, and impact the future of GVP and the world. That process is already well underway: as GVP alum and AAC member Nasteho Ibrahim commented, "[The AAC] is actually really thriving now. It's becoming bigger than I expected it would, and I'm excited about the things we're doing."