by Jennie Jiang | February 24, 2020
This past December, Global Village Project was selected alongside Clayton County Public Schools to receive the 2019 Partnership Award from GSU's College of Education and Human Development (CEHD). Each year, the award recognizes community organizations who have valuable partnerships with the college and are working to serve the public good by addressing educational and community challenges.
We are honored to receive this award after many years of partnering with GSU, thanks largely to the support of CEHD Associate Dean Dr. Gwen Benson. Since beginning this partnership, Dr. Benson has also joined the GVP Advisory Board. Working with GSU has not only enabled Global Village Project to benefit from the resources of a research university, but also allowed GSU students and faculty to put their skills and passion to use developing innovative programs to serve refugee students.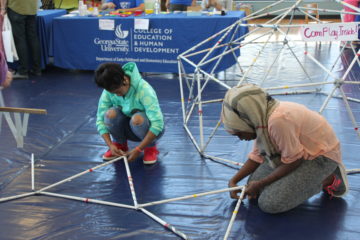 One exciting opportunity that wouldn't have been possible without this partnership is GVP's participation in the Atlanta Maker Faire in 2017 and 2018. GVP Science Teacher Marjorie Cooper, working with CEHD Assistant Professor Dr. Rachel Fiore, led students through the creation of Maker Faire projects that they later presented to the public. GVP students got to take advantage of a unique, 21st century approach to learning about science, engineering, and technology, while GSU's preservice teachers got direct experience developing a program that suited the needs and strengths of a nondominant, culturally diverse student group. Ms. Cooper and Dr. Fiore later published an academic paper about the collaboration.
More recently, GVP was approved this school year as a placement site for social work interns from GSU. A GSU social work intern has been placed with us this year to support the Social and Emotional Learning program at GVP, and we are lucky to have her and the many other GSU student interns who make GVP's impact possible.
The partnership between GVP and GSU has allowed both schools to pursue what is deeply important to our missions: serving our diverse communities through education that is inclusive and equitable. "As a college of education," said Dr. Gwen Benson, "It's our mission to prepare effective teachers for high-needs schools and support students from diverse backgrounds. Clayton County Public Schools and Global Village Project have been great partners in that work."
Learn more about GVP's partnership with GSU below: