by Jennie Jiang | December 22, 2020
By the time Bertha Nibigira graduated from Global Village Project in 2012, she had already won two writing contests, interned at a hospital, and met the governor of Georgia. Bertha says the years she spent as a student of GVP marked a pivotal chapter in her life journey. She credits the school — and in particular one of its founders, Mr. Ricky — for connecting her to resources, events, and opportunities which allowed her to thrive. Now, eight years after graduating from GVP, Bertha has just completed her first term in graduate school at American University. Recently, she sat down with us to share more about her remarkable story.
Bertha's journey began long before she ever set foot in the United States. Her parents were born in Burundi, but they fled from violent conflict there in 1972. They moved to the Congo and had Bertha and her brother. In the Congo, refugees could work freely, have fun, and, as Bertha puts it, "live something like a normal life." However, their family had to flee again, this time to Tanzania, when civil war erupted in the Congo. "That experience [in Tanzania] was totally different. We were really restricted to just staying in the refugee camp, because the government did not want refugees intermingling with the rest of the population." She says her family had to depend almost entirely on food and supplies from the UNHCR, but those sometimes took weeks or even months to arrive.
"Life was very, very, very hard there. It was a really hostile environment; we lived in constant fear of being forced to leave, and all of this was a decision that the government was making." Bertha is grateful to her parents for working so hard to keep her safe and secure, sharing that she doesn't remember ever "going hungry or not having what I needed," but adds that as she looks back, she can see the quality of life "wasn't great." The refugee camp was supposed to be just a transition place, but Bertha's family was waiting there for over 11 years because the process of registering, getting vaccinations, and receiving documentation was "extremely long and complex."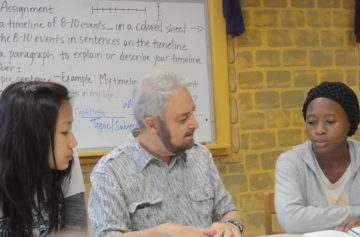 The challenges did not abate when Bertha and her family were finally resettled in the U.S. in 2008. As a 13-year-old newcomer, Bertha experienced anti-refugee and anti-immigrant hostility in a new way in the U.S. "I didn't even understand the context in which these things were being said," she recalls, "but I remember them making me feel really sad and unwanted. Sometimes people forget that even though we're refugees, we're also humans. And when you're a teenage girl, you're a normal child." Bertha says she is grateful to Global Village Project for encouraging her to use her voice and seek out what she needed to be successful, but it was still difficult as a young teen to navigate the multiple challenges of adjusting to a new country, learning a new language, and helping to shoulder family responsibilities.
Bertha graduated from GVP in 2012 and received a scholarship to attend St. Nicholas Orthodox Academy, a private K-12 school in Atlanta, for her high school education. Two years later, after being crowned valedictorian when she graduated in 2014, she went on to attend Berry College on a scholarship from the Bonner Scholars program. It was during her college years that Bertha began to get a sense of what kind of an impact she hoped to make in the world. A key moment was when she had the chance to intern at a refugee-serving nonprofit while studying abroad in France. Through this internship, Bertha witnessed firsthand the injustices faced by refugees fleeing to Europe. "These are people who got to these different European countries through boats," she says. "They cross the ocean on boats that are not even supposed to go for that long, and we know the story, people die." Their stories stuck with her, reminding her of her own experiences as a refugee and sparking a fierce desire to get to the root cause of their shared suffering. "What's causing this? How can we stop it? [Refugees] are going to these nations, and they don't want them. And it's just like, you had a traumatic experience in your own country, you have to leave…nobody wants to leave their home, but you have no choice. You're trying to stay alive."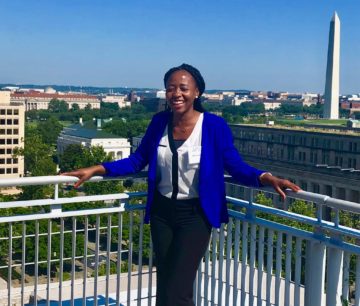 These connections planted the seeds for her eventual pursuit of a Master's degree in International Development. After graduating from Berry College in 2018 with a dual degree in anthropology and sociology, Bertha relocated to Washington, D.C to immerse herself in the city where opportunities for international careers abound, knowing that was what she wanted for the long run. She worked for a child development center until the pandemic caused the center to close earlier this year, and then she enrolled in her first semester at American University.
Four months in, Bertha is already deeply immersed in research and extracurricular activities to prepare for a career serving communities affected by violence, civil unrest, and human rights violations: she is assisting Assistant Professor Dr. Jordanna Matlon in the School of International Service with the final steps in completing a manuscript. She is developing her own research interests, which will likely focus on peace and conflict resolution in the East African region, where she is from. And she is on the executive committee of an organization called Reunion 257, which brings together youth from the Burundi diaspora to discuss issues faced by their community and support one another. Bertha isn't quite sure what she wants to do post-graduation yet, but she says she would be thrilled to work as a consultant for a private institution or an NGO like the U.N. or the African Union, so long she has the opportunity to work with others to find a solution to the global refugee crisis.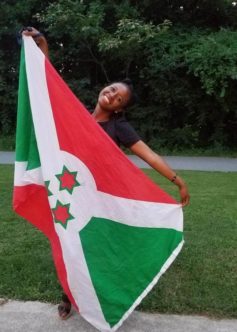 No matter what role she ends up taking in the future, we are confident that Bertha's drive and determination will equip her well for success. Already, she has beaten the odds: only 3% of refugees worldwide enroll in college or university, and Bertha is among the even smaller percentage who pursue graduate studies after that. To the refugee young women who wish to follow in her footsteps, Bertha's advice is to "stay focused, and surround yourself with people who are trying to grow. Take advantage of resources, programs, and people that can help you."
Bertha herself is relentless in her focus to help those in her community thrive. With the skills and knowledge she gains from her graduate degree, she intends to devote her career to helping build a more peaceful tomorrow. "I don't know, maybe I'm naive," she says, "but I think I can make a difference in the world by being the change I wish to see."
To learn more about Reunion 257, the organization for which Bertha is on the executive board, visit https://reunion257.org/ or follow them on Facebook or Instagram.