by Jennie Jiang | August 28, 2020
Since the pandemic began, many employees across the country have found themselves on their couches on Zoom, attending the meetings they once had in conference rooms. Pre-pandemic, only about 3% of American employees worked from home more than half the time. Now, recent polls suggest that up to nearly two-thirds of Americans have transitioned to working remotely in the last several months.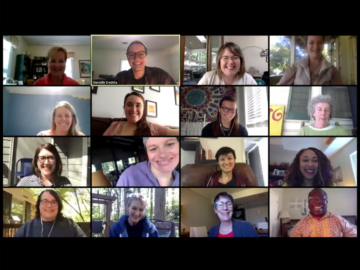 The team at Global Village Project is no exception. After sending our students home from their last full school day on-site on March 17th, GVP staff also switched to a fully remote work model. For an organization that runs on constant collaboration and teamwork, with a highly-integrated internal structure, adapting to a fully distributed workplace has required ingenuity, flexibility, and a deep commitment to the relationships that lie at the core of our school community and culture.
Like many employees newly working from home during the pandemic, GVP team members have faced challenges from being physically isolated from peers since our transition, including the lack of face-to-face interaction and loss of the close, energizing atmosphere that comes from being at GVP with our students and volunteers. However, GVP staff have also used this period as an opportunity to build new structures, experiment, and innovate. Just as the teaching staff at GVP has adopted new tools for remote learning, the administrative staff dove into new tools and practices for communication and collaboration A key development to emerge from this period has been a new interdisciplinary working group model that transcends traditional team boundaries at GVP. Academic coordinators, development team members, and operations and management staff have joined to form new collaborative groups that target specific organizational priorities. The Engagement Initiative, for instance, was formed in late March to provide a designated space for our efforts to engage stakeholders across the GVP community during these remote times.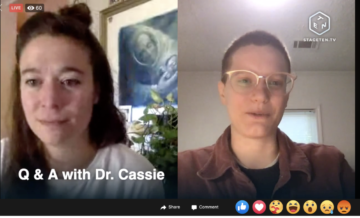 One example of a major success that would not have been possible without changes to our team members' flexibility and creativity was our May 1st Virtual Community Tea. In lieu of being able to host our last planned Authors' Tea of the year, a gathering that ordinarily would have brought over a hundred people together on-site, the Engagement Initiative created a new virtual experience for our first-ever live stream on Facebook. Nearly 70 participants watched from their homes and over 600 users clicked in to view the video as we broadcast a live Q & A with Dr. Cassie, shared songs and monologues recorded by students, and enjoyed live music from Ms. Elise. Other remote experiences that have offered new ways of bringing our community together during this time include Elise Witt's House Concert in May, the new ongoing DEI Book Club, the development of a virtual tour of GVP's campus, and more. Plus, the 2020 Welcome Walk will be going virtual this year – more details to come soon!
All in all, the GVP team has worked hard to pivot creatively and effectively during this time so as not to lose the collaboration and connection that defines our work, impact, and community. We will continue working remotely until it is safe to return on site, and until then, we look forward to many more opportunities for virtual engagement from our homes – which may be attended, occasionally, in our pajamas.