by Erikah Swift | October 19, 2022
Nature hikes are not quiet. There's a lot of noise actually: the fall leaves and dusty rocks crunching underneath sneakers, the rumbling of water bottles and backpacks that move with each step, and one long, "Hellooo, can you hear me?" That's not typical, but sometimes, you just have to make sure your echo works.
This September, I joined Ms. Olivia, English Language Arts teacher, and Form Three students at the Len Foote Hike Inn located in Dawsonville, GA. This is an annual, overnight field trip for students to bond and learn about the Appalachian Trail on a five mile hike. I decided to attend because I had never been hiking before, and as the Marketing & Communications Specialist for GVP, this meant capturing one of the school's special field trips in real time.
The morning of the trip, we packed our bags with snacks, ponchos and of course, water bottles. Meanwhile, I unpacked. The extra pack of chips and granola bars changed the weight of my bag from "doable" to "doing the most". As a natural overpacker, I said goodbye to things I probably wouldn't need on a nature trail: an extra shirt, some toiletries and sadly, my lip liner.
With a semi-heavy bag, we loaded the school bus, and Mr. John, GVP's bus driver, led us an hour and a half away to Amicalola State Falls Park. We got off the bus, and the trail awaited us. I felt a slight brush against my ear, I jumped out of fear and heard laughter behind me. In my mind it was nature's creepiest critter, but it was in fact a leaf.
We met our tour guides for the hike and we were off to conquer the first set of five miles. Things were going steady and the sun beamed at the perfect amount. Then, I started to feel out of breath. "Does anyone else feel tired already?" I thought to myself. I looked down at my Apple Watch to view our progress. "You've walked half a mile," it said. I screamed internally.
There was a group of students that followed the pace of the leading tour guide, a 70-year old expert, who had been hiking since he was a boy scout. They walked briskly up and down hills like pros. Not me though. Soon, I found my walking buddy. "Ms. Erikah, they are going too fast," she said. "I agree, let's stay back here," I replied. We walked to our own comfort and talked about high school, our hobbies, and how this was both of our first hikes. Sometimes, there were no words, just a mutual look of tiredness and giggles that followed after.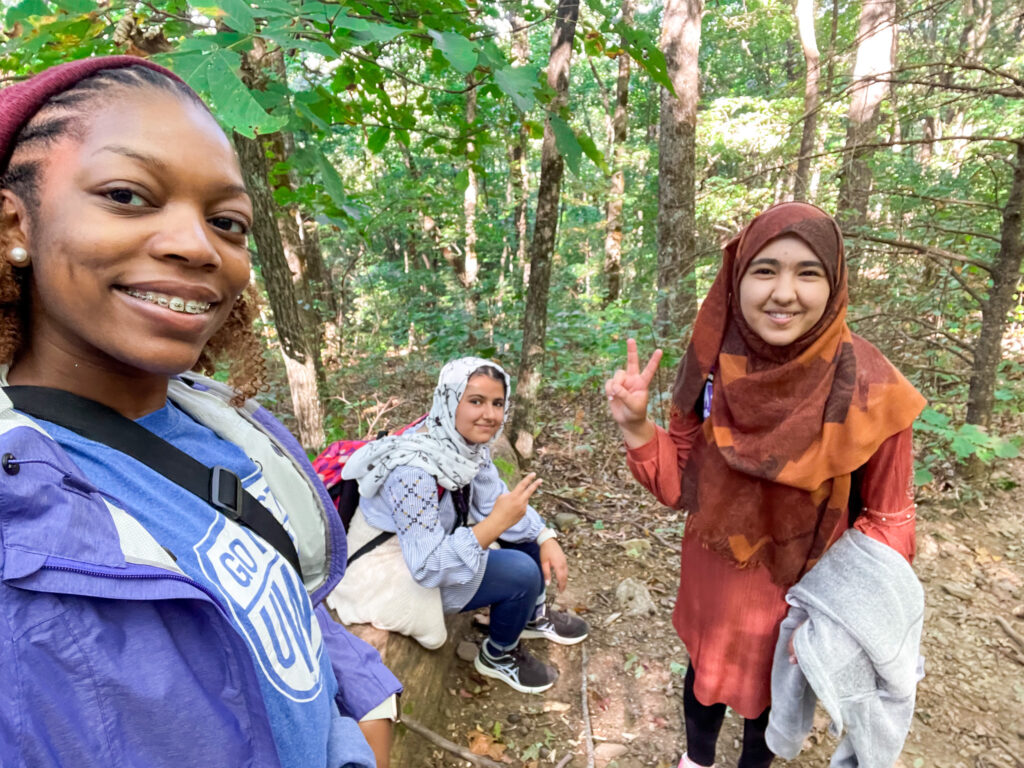 "How are we all feeling?" Ms. Olivia asked. "So tired" was the average response. "I do this every weekend," she replied. I was thankful to have a hiking enthusiast amongst the group. Her cheerful spirit was encouragement for us all throughout every mile.
After one hour and 30 minutes, we made it. I was never happier to see a chair. The Len Foote Hike Inn Tour Guide showed us to our cabins, and students happily raced to their rooms. Sitting down on my bottom bunk bed and kicking off my sneakers, I leaned back peacefully. "Boom, boom, boom." Silence was over. "Ms. Erikah, what are you doing in here? Let's see your room," I heard through the wood door. Three students waited for me outside to also make sure my room was up to par. "Okay, now tell us a story." We sat around and talked for a bit, mostly about random things and Tik Tok. 
After getting settled in, we sat and ate a family-styled dinner and ended the night by drinking hot chocolate and playing a few board games. The next morning, we headed back down the trail to conquer another five miles. I joined my walking buddy again. This time, we talked about our aching legs and shoulders as a result of yesterday's trip. 
"Remember to look up and see the nature around you," Ms. Olivia said to the students. I followed her instructions too. I didn't take the time to stop and look around me on the way here. Finally, I lifted my head from Georgia's red dirt, to the sky. The leaves swayed, birds chirped more clearly, it was serene and — "Hellooo, Ms. Olivia, where are you? Can you hear us?" a student said from afar. The echo still worked on day two.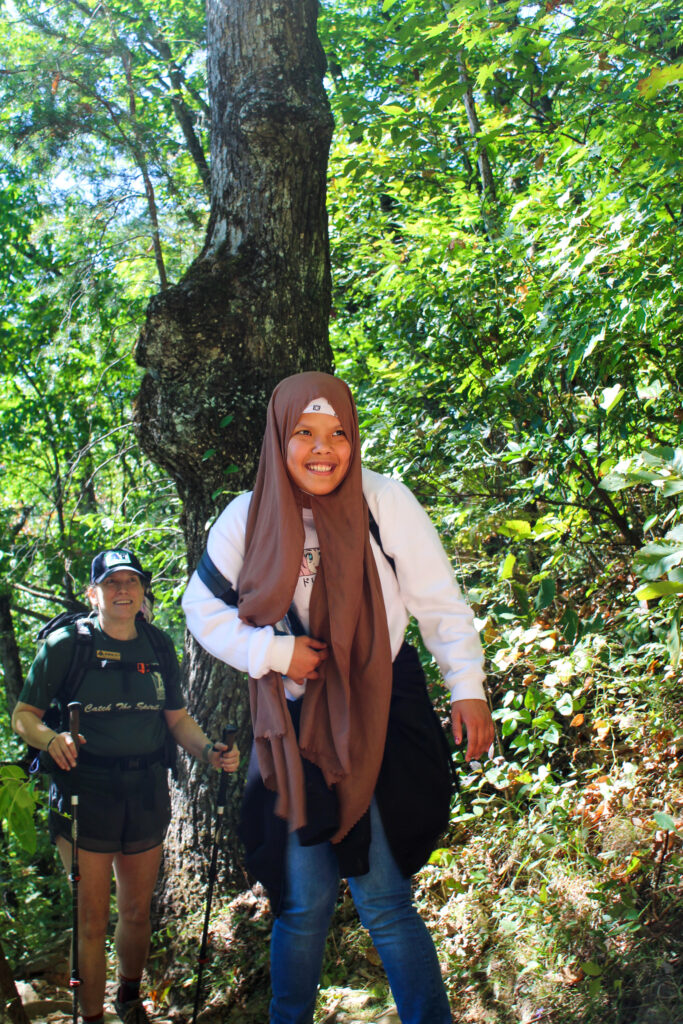 We were near the end of our hike, and students stopped to take one last look at the view. They sat together and gazed at the trees that extended far enough to resemble the sea. Then, they cuffed their hands above their heads and connected them to make hearts. I rushed to take out my camera and told them to hold their pose. There were no giggles, echo checks, or rumbling bags. The five hearts raised beautifully amongst the Georgia mountains' skyline creating the most serene and quiet moment of ten miles.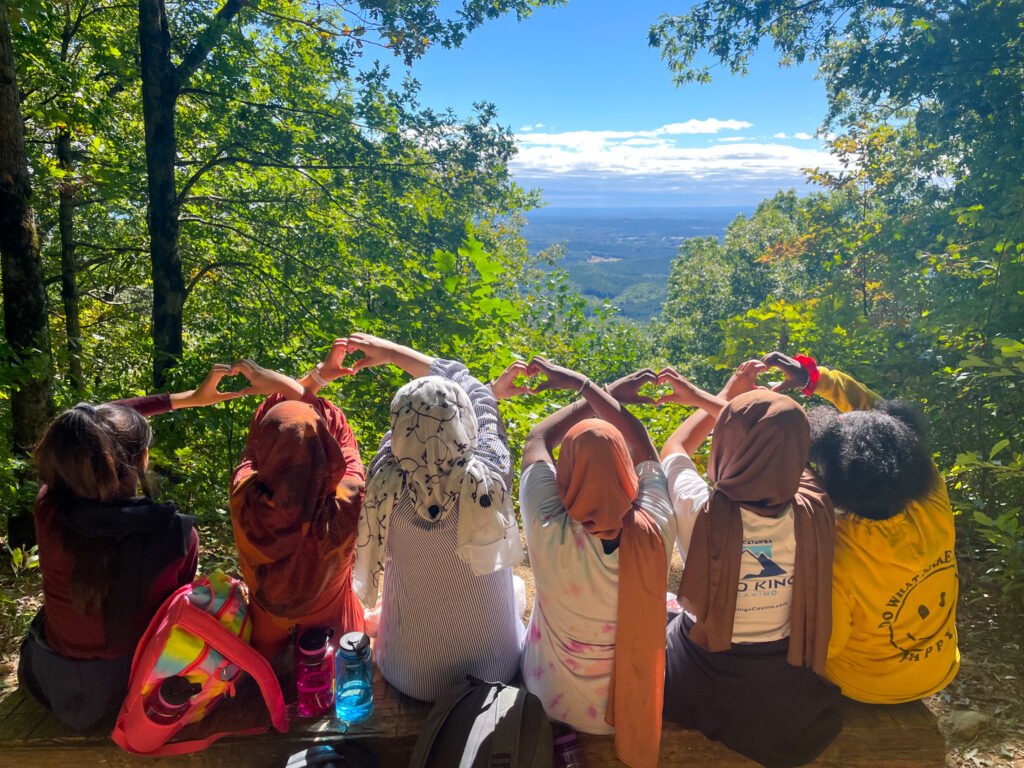 ---