by Jennie Jiang | October 27, 2020
For the past eight years, the Global Village Welcome Walk has brought our community together to make the journey from Clarkston, GA, where many of our students reside, to Decatur, GA, where our school is located. This year, our annual community walk is going virtual for the first time during the week of November 22-28. With no limits on where we can walk in the spirit of welcome, one member of the GVP family is even taking the event to London!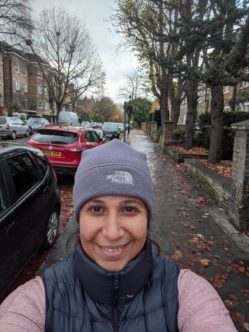 Our first-ever internationally based Welcome Walk team is led this year by Pia Ahmad, former Board Chair and long-time supporter and advocate for Global Village Project. In honor of the 47 current students at GVP, Pia and several of her friends are challenging one another to run 47 miles around London over the next few weeks – one mile for every refugee learner at GVP! PIa, Amber, Gina, Nidhi, Wendy, Leslie, and Rohini all met as brand-new runners in a group called "Women Running the World, and they were originally training up to a half-marathon. While the race  was cancelled due to the pandemic, Pia says, "A year later we have formed amazing bonds of friendship and support and as an aside, we are now runners. We are all proud to participate in GVP's Welcome Walk and to support these amazing young women."
Despite the hundreds of thousands of miles that physically separate her from the school, Pia is diving into the 2020 Welcome Walk because she still cares deeply about the work and impact of Global Village Project, which represented a core part of her life for many years. Pia's involvement with GVP dates all the way back to 2010, just one year after the school's founding. After she first learned about the organization – just googling "global, education, and girls" and discovering GVP's website one day – Pia became involved as a volunteer tutor and gained her earliest experiences working with refugees. She remembers that one of the first students she met was a young woman from Afghanistan who had recently moved to the U.S. with her mother and three brothers. "Her mother was exactly my age," Pia recalls, "but she probably looked my mother's age, considering what she'd been through."
A pivotal moment for Pia then came during an Authors' Tea, GVP's quarterly student showcase in which GVP students share their learning with the wider community. Watching the students perform that day, Pia, who was working an office job at the time, said she remembers having an epiphany: "I think I just stood there in the corner and bawled, 'Oh my God, this is such an amazing place. Why am I spending my life on this desk job that I have no interest in when my heart really belongs with these girls?" She soon left her job and decided to become more involved at GVP, joining the board and eventually becoming the Board Chair.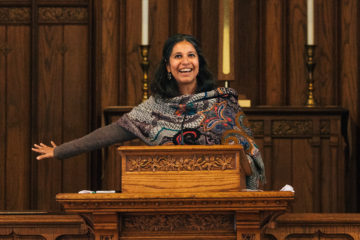 Using her MBA and background in organizational strategy, Pia spent the next several years helping to lead GVP through a period of intense transformation. She helped grow Global Village Project from its earnest beginnings into the robust organization it is today, one with a budget more than triple what it had been when she joined the Board of Directors. During these years, Pia became one of GVP's most enthusiastic ambassadors: she often travelled with Dr. Amy Pelissero, Head of School at the time, to share about GVP with wider audiences and generally "told everyone [she] knew about GVP." She also continued to volunteer in the classrooms and help around the school, sometimes even coming in five days a week.  
In 2017, Pia finished her six-year term on GVP's board, and a year later moved to London. Reflecting back, she says, "I still do miss [GVP]. Quite a lot, to be honest." But she's since found new opportunities in London to make a difference, including volunteering at an afterschool program for refugees.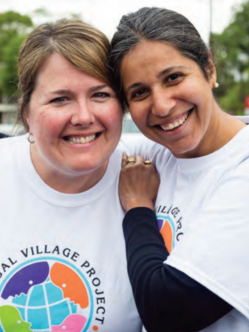 Of course, she is also still championing GVP's story of inclusion abroad. In addition to running in the weeks leading up to the Welcome Walk, Pia and her friends are also showing their commitment to welcoming refugees and immigrants everywhere by fundraising on their very own team: the London to Atlanta Globetrotters. Pia's team is one of several participating in a little friendly competition to raise money for GVP and help us hit our goal of $50,000. Every dollar will go towards funding equitable, empowering education for GVP students!
While we won't be able to walk in person like we've done in the past, Pia's London-based team is one of the unexpected gifts to come out of the pandemic, and she hopes her team's participation will become a yearly tradition. No matter where in the world you are for this year's GLOBAL Welcome Walk, we hope you'll be able to join us, too. 
Learn more and pledge to walk today at bit.ly/GVPWelcome.