by Elizabeth Elango | April 27, 2021
This month Lily Tova came to visit GVP! Lily Tova is a certified therapy dog and GVP's would-be mascot. She and her owner, Cindy Zeldin, visit campus often to help students with guided reading. This time, she joined Ms. Danielle's STEAM class. Her presence in this virtual class was a welcome addition, something to distract the students from the monotony of screen time. It was also a way to elicit engagement from them, as Lily's black nose danced across the computer screen, causing the girls to giggle with excitement.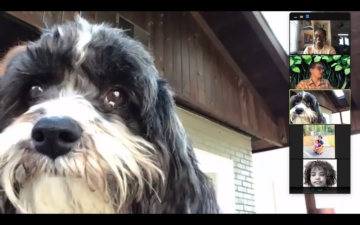 Cindy and Lily are long-time friends of GVP, having joined our community after being inspired by our mission years ago. "I was told by a friend about the wonderful work you do at GVP," says Cindy. "Since I lead a group called 'Immigration Outreach' at The Temple here in Atlanta, I decided to get involved." The Immigration Outreach committee has done fundraising for GVP, brought lunches to the girls, and taught them about the Jewish holidays. Others on the committee have been tutors at GVP as well, and still others have participated in the Welcome Walk, GVP's annual community walk.
Since Lily Tova is a certified therapy dog, Cindy decided to start a reading program at GVP. She completed her volunteer training and started visiting the campus every other week. Lily has accumulated over 200 volunteer hours visiting schools and nursing homes over the last seven years!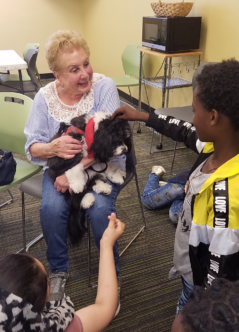 As a professional psychotherapist and life coach, Cindy has helped the girls learn to feel very comfortable with Lily Tova. "In the beginning they were all terrified of her, but slowly they each began to love her and love holding her and watching her do tricks," says Cindy.  In many of the students' countries of origin, dogs are not pets, so they were distrustful at first. However, gradually they became excited about reading to her, and now they trust that Lily will only ever treat them with kindness and love.
Cindy believes that the reading program is very important because children relate to a dog differently than to a person. During their reading time together, the girls would share their feelings about what they were reading, and they would whisper secrets into Lily's ear knowing she would keep their confidence. "When I would enter the school, Lily could barely control herself and would run up to the children she knew, and they would pet her as she squealed with delight" says Cindy. "Being on Zoom is definitely not the same thing, but we do the best we can under these circumstances."
Lily Tova and Cindy look forward to a time when they can once again visit in person with the girls, and it is certain the girls look forward to that, too.