by Jennie Jiang | August 28, 2020
Wise, soft-spoken, and determined, Niza Vang is actively working to better the world around her.
This summer, the 2014 graduate of Global Village Project returned to intern at her alma mater so she could help make an impact on a younger cohort of refugee students. From mid-May to early August, Niza supported a range of projects across GVP to help the school more smoothly navigate a period marked by challenge and adaptation: she helped load up food and supplies to be delivered to GVP families, packed books from the GVP library to send home to students, set up tablets for remote learning, and more.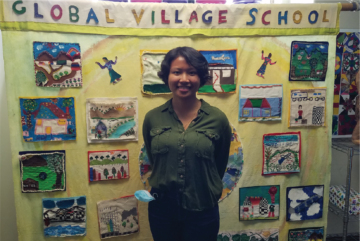 Niza's summer internship at GVP is part of her ongoing commitment to community service as a Bonner Scholar at Berry College, where she is beginning her sophomore year this fall. The Bonner Scholars Program offers four-year community service scholarships to students who demonstrate financial need and take on a commitment to serving their community. 
This summer, six years after her GVP graduation and having persevered through high school and her first year of college, Niza decided to come back to GVP because she wanted to help her community. Niza knows what it's like to be a newcomer to the country: at age 11, she arrived in the U.S. from Burma with her family and had to face the challenges of adjusting to a new educational system, learning a new language, and building a new life. Now, at twenty years old, Niza wants to support others through those same experiences. She hoped to use her summer internship at GVP as a chance to mentor younger students who are in the same place she was in nearly ten years ago. 
"I feel like if someone who had the same experiences as me came back years later," says Niza, "after they had done whatever they could, to become the person who they are, then I feel like that would have encouraged me… because it would make me think that I could do that too." Indeed, Niza is among the only 3% of refugees worldwide who enroll in college or university. She says she wanted to encourage younger students to see how they could be in a better place in a few years, and to look at her and other alumnae and think, "If they could do it, why can't I?"
While the pandemic limited Niza's opportunities to be able to engage directly with students this summer, she still made a tremendous impact on them through her service with GVP. Altogether, she completed an incredible 164 hours of service this summer! Niza's selfless dedication and behind-the-scenes work have helped the school navigate the COVID-19 crisis and prepare for a new year.
Now, as she heads back to college for the fall semester, Niza will have plenty more opportunities for working with youth to look forward to. She is interested in volunteering with a nonprofit that serves children, such as Restoration Rome, for her next community service role. In addition, she will apply to the nursing program at Berry College this year in the hopes of becoming a pediatric nurse. Niza is excited at the opportunity to help others through healthcare, and she is especially passionate about working with kids. 
Eventually, Niza dreams of returning to Burma as a nurse so she can help address health inequities in poorer communities outside of Yangon, Burma, where her family is from. If she doesn't end up practicing nursing, Niza still hopes to work in healthcare administration. Ultimately, she trusts that she will end up wherever she is supposed to be, in a role that allows her to make an impact and brings her inner peace. While it's impossible to be "perfect", Niza says, "it's not impossible to be someone who you want to be… you don't have to be a professional. I think sometimes you just have to be happy with who you are and what you're capable of."